Labor Day weekend is fast approaching, the unofficial mark of summers end. If you're going to a picnic or a family get together for your last hurrah, here's a couple of things you can bring along and not worry about it spoiling from sitting around in the heat.
We recently had a big family picnic and although there were grills on site, we didn't feel like grilling, so I was thinking what I could bring to share that would be big enough to feed a bunch of people, Italian sub sandwiches of course!
I decided I would switch it up this time and make them on focaccia bread, and although the picture may not show it well, these were huge, like the size of a 14 inch pizza.
Living in the Chicagoland area I'm fortunate to have access to many places where I can easily go and pick up some of these delicious breads, some are round, some are rectangle, all shapes would work for this, and of course you can always make your own.
I love this type of focaccia with the tomatoes stuck into it, it lends so much flavor to the sandwich but it does takes a little patience when slicing it in half horizontally.
You'll need a small pairing knife and a large serrated knife. You'll also want to make sure your focaccia is at least 1 1/2 to 2 inches thick. Use the pairing knife and score the center of the outside edge all the way around, this will just be your guideline so be careful not to cut into it too deep.
Then take the large serrated knife and SLOWLY cut through the focaccia, pressing on the top ever so slightly with your hand as you move back and forth until you reach the other side using your pairing knife marking as the guide, then gently separate the halves.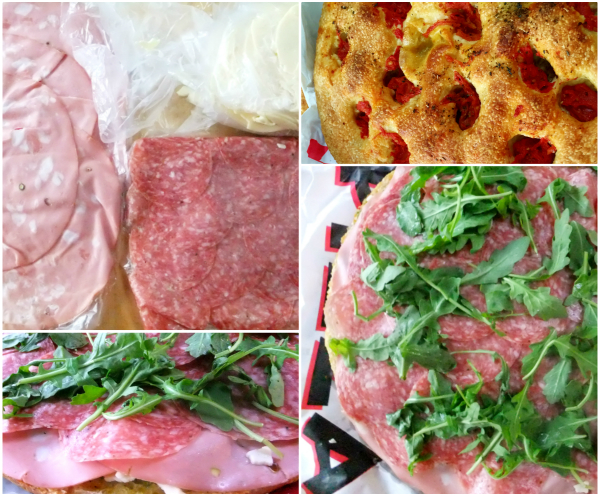 The sky's the limit as to what you want to fill your subs with, I opted for swiping basil pesto on each side of the bread with a nice drizzle of olive oil all over, then I layered with slices of aged provolone cheese, mortadella, salami and a handful of arugula. Like I said before, the tomato focaccia has so much flavor so you really don't need much more of anything else!
The best part is they make a great presentation on the table placed on a couple of round Party Store platters that I picked up.
I couldn't cut them fast enough, needless to say they were a hit!
I also brought along this Caprese Pasta salad which I like to make this time of year with the abundance of cherry tomatoes that still have their intense flavor.
I cooked my pasta the night before, ( 2 lbs.) cooled it down, drizzled it with olive oil and put it into a zip bag overnight and also cubed up a log and a half of fresh mozzarella cheese.
The morning of the picnic I quartered all my tomatoes, a t least 2 big containers, dowsed it all with olive oil, salt, pepper and fresh basil. Let it sit a bit so the juices can mingle, then tossed in your pasta and cheese adding more oil, basil and salt if needed.
Both are easy to do, a nice presentation, and feeds a crowd, oh and of course taste amazing!